Tell us a little about yourself and cooking?
I was a pampered kid at home and was never allowed to cook during my childhood. While I was in my 10th grade, I saw this chicken recipe in the Sunday newspaper magazine and told my mom I wanted to try it, My mom helped me with the recipe which involved simple steps,the outcome was delicious. My brother and dad said that was the best chicken they tasted at home. The joy of compliments you get when someone enjoys your food is just overwhelming, from then on my interest towards cooking started. I never really had to cook in India except for a special occasion, so I only knew how to cook specialty foods. I caught up on the rest of the recipes while doing my Masters at Syracuse. My chicken curry had converted many vegetarians to non vegetarians (winks).
After getting married, me and my husband have travelled a lot and being major foodies we have tried various cuisines from across the world. We went to chefs specialty events, food festivals etc which has inspired me to broaden the realms of my cooking. I watch a lot of cookery shows of which Chopped and Barefoot Contessa are my favorite. Cooking for me, is a stress buster. I aspire to own a restaurant of my own with a global cuisine and my signature dishes. I also plan to go to culinary school to learn other techniques of cooking.
I have extensively read the principles of Ayurveda, which teaches the properties of various foods and what foods give you power and what foods drain your energy or are toxic when combined, example: milk and fish should never be combined because it builds toxins in the body. With these concepts in mind, I think my experimentation knows no bounds.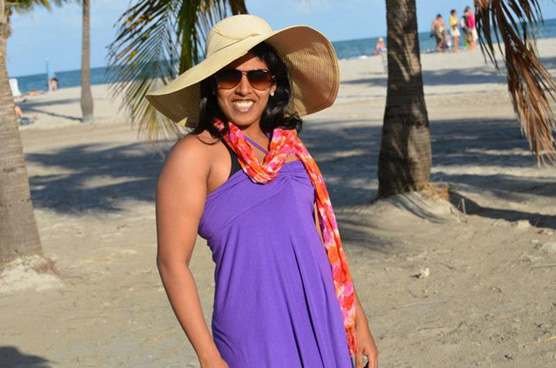 What was the best compliment you received?
When I was newly married, we went to meet a group of my husband's friends. All the guys in the group proclaimed another girl to be the Head chef of the group. Now after 1.5 years, we met at another gathering where they said "Prathima, you should really start a restaurant as a global cuisine. You are the head chef and the "other girl" will be your sous chef". That was music to my ears.
What's your signature dish?
I'm known for my cakes. Apart from that people love my Chole curry and Chicken curry.
What was your biggest challenge when you started cooking? Or any kitchen disaster stories?
Although my mom was always by my side when I started to cook, I recall a funny incident. I think I was in my 8th Grade. My dad loves sweets and I wanted to surprise him with a paramannam (a south Indian rice pudding). I read the recipe and put all the ingredients on the stove, only to realize I should wait for the rice to be completely cooked before adding jaggery. And so there I was stirring and stirring for about 3- 4 hours waiting for the rice to be done. The bottom got burnt badly. My dad and mom returned from work and yelled at me like crazy for wasting so much food and burning the vessel. When I explained them my intention both of them burst out into a laughter.
What tips would you give a beginner cook?
Whenever one wants to try a recipe, they should first go through the entire recipe, look for any special instructions and only decide to try it if they are comfortable. Have all the ingredients chopped/washed/assembled and ready to use into the pan. Get familiar with handling ingredients, for example : you don't have to burn your eyes cutting onions, slice them in half and leave them in water for 10 minutes. Eggplants and potatoes should be left in salt water once chopped if they are not being used in cooking right away. Cook on medium flame, that will give you ample time to follow the next step and not burn what you have on your stove. Use fresh ingredients. Have patience and keep trying recipes, you'll learn from practice and mistakes.
Any secret ingredient you add to food?
My secret to great foods is fresh ingredients, the right mix of spices and the ability to imagine and couple ingredients together.
What are biggest influences to your dishes?
The global culture in California has increased my exposure to other cultures and their traditional dishes. The availability of new ingredients definitely influences my dishes.
What was your first cooking experience?
I was kind of forced into my first cooking experience. I was around 8 years old when my parents had to go out and I was left at my uncles place. My uncle, assuming that I knew how to cook asked me to make Puri. There was premade dough that I somehow managed to roll out. While trying to fry the Puris I dipped all my 5 fingers into the oil along with the Puri. That sure was a nightmare.
What motivates you to cook?
I get bored eating the same food over and over, that kind of pushes me to try out new dishes all the time. I can say in a given month, there will hardly be a recipe that gets repeated at home. And of course my husband and the group of friends we have are open to taste my experiments.
Whats your BonGong story?
I have been trying out new recipes and also creating my own signature dishes since 2 years, but when you ask me about those, I did not document them and I don't remember how I created them. Right when I was thinking about documenting my recipes going forward, Leanne, my friend while doing Masters Degree at Syracuse, asked me if I wanted to be a contributor for BonGong. I was overwhelmed and I said yes right away.